Wonderfalls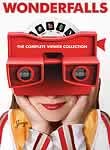 Did anybody catch the short lived series Wonderfalls? I saw the commercials for it, could never find it on TV and then it was canceled after only four episodes!! I've been getting the episodes from Netflix and I have to admit I like the quirkiness about it. It kind of reminds me of the Northern Exposure days. *sigh* God how I miss that show.
It's the story of a Brown college graduate going back home to her over acheiving family and getting a job at the local souvenir shop. Oh yeah, she's from Niagara Falls and the figurines in the store start talking to her. That's the best part. I also can't get the theme song out of my head. It was written by Andy Partridge of XTC fame and if you scroll to the bottom of this page you can hear the song and see the video.

"We're bopping along in our barrel...."